 217m²
€ 2.100.000 k.k.
Upper floor apartment
2 Bedrooms
1 bathrooms
Description
In the prestigious apartment complex Hamdorff on the Brink in Laren, a great apartment for sale.

This luxurious apartment, with an area of approx. 220 m², is situated on the first floor of the building, with a beautiful view over the Brink van Laren at the front and the attractive courtyard garden at the rear. The apartment is very spacious, is in an excellent state of repair and offers many luxurious and stylish amenities.

The layout: The spacious living room has double doors to two terraces with evening sun and views over the cozy Brink. The living room has double interior doors with glass and rods and a beautiful parquet floor with underfloor heating, as well as most other rooms in the apartment. The living room is tastefully decorated with ornaments and ceiling moldings in the classic-chic style of the building.

The very fully equipped kitchen with pantry is centrally located in the apartment. The adjoining dining room has double doors to a spacious and sunny terrace facing south, on the courtyard garden of the building. The apartment has a master bedroom and a second spacious bedroom with fitted wardrobes. The beautiful bathroom with bath and separate rain and steam shower is accessible from both bedrooms.

The entire apartment is air conditioned and has a security system.

In the basement there is a separate storage room of approx. 20 m² and there is a parking space in the underground garage. Additional parking spaces can be rented.

The central entrance is located in the passage of Hamdorff, with a spacious hall, elevator and staircase.

The service costs are € 463,- per month.

Delivery in consultation.
Transfer
Decoration

Partly furnished

Status

Sold
Build
Apartment type

Upper floor apartment, Apartment

Bottom floor

1

Build type

Existing

Build year

1997

Maintenance inside

Excellent

Maintenance outside

Excellent
Surface and volume
Living surface

217m²

Volume

713m³
Layout
Rooms

4

Bedrooms

2

Bathrooms

1
Energy
Insulation

Fully isolated
Exterior areas
Location

In town center

Balcony

Yes

Shed

Indoor
Garage
Garage type

Car park

Capacity

1
Floor plans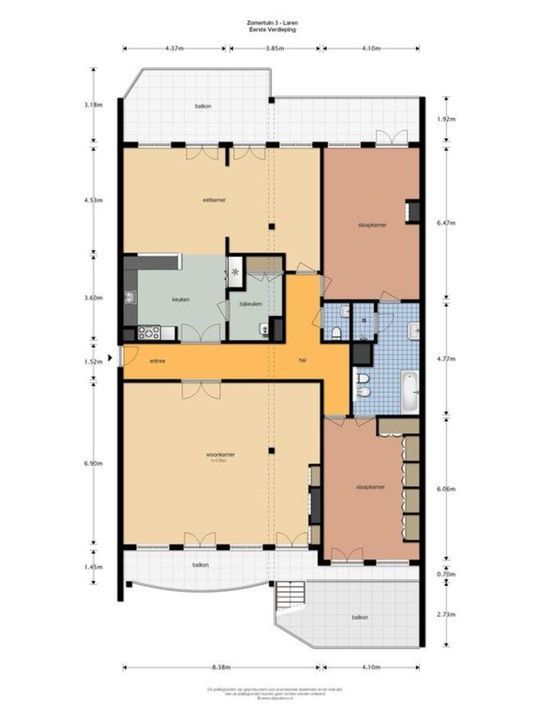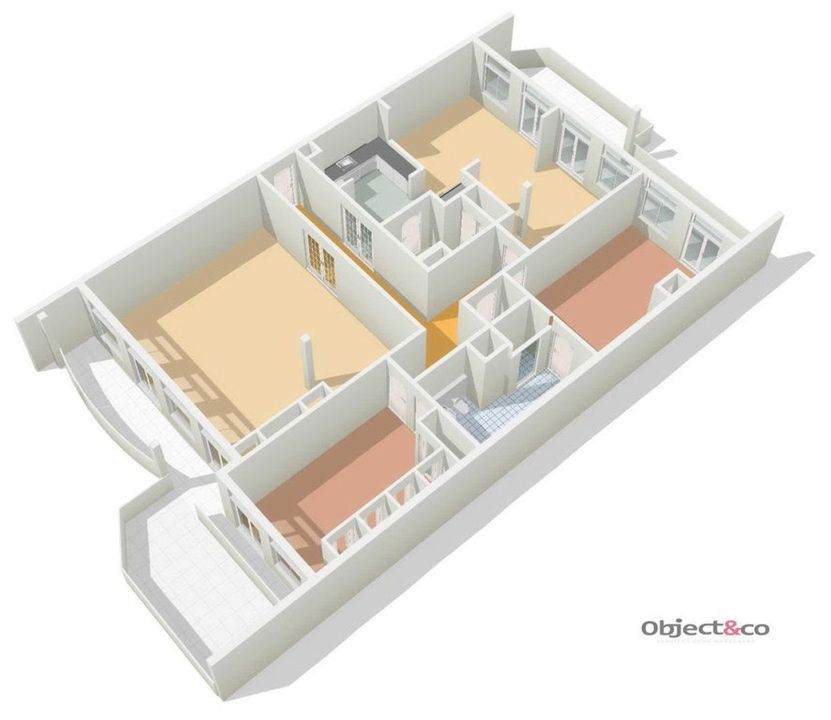 [ { "address": "Zomertuin 3", "zipCode": "1251LZ", "city": "Laren", "lat": 52.2559051, "lng": 5.2252522, "heading": 0, "pitch": 0 } ]
[{"featureType":"water","stylers":[{"visibility":"on"},{"lightness":20},{"saturation":-42},{"hue":"#00ccff"}]},{"featureType":"landscape.man_made","elementType":"geometry","stylers":[{"visibility":"on"},{"saturation":-99},{"lightness":51}]},{"featureType":"road.arterial","elementType":"geometry","stylers":[{"saturation":-98},{"lightness":35}]},{"featureType":"road.highway","elementType":"geometry","stylers":[{"saturation":-95},{"lightness":-10},{"gamma":2.17}]},{"featureType":"poi.park","stylers":[{"visibility":"on"},{"lightness":30},{"saturation":-50},{"hue":"#a1ff00"}]},{"featureType":"poi.school","elementType":"geometry","stylers":[{"saturation":-25},{"lightness":12},{"hue":"#ffdd00"}]},{"featureType":"road.local","stylers":[{"saturation":-100},{"lightness":15}]},{"featureType":"administrative.neighborhood","stylers":[{"visibility":"on"},{"saturation":-100},{"lightness":35}]},{"featureType":"poi.attraction","elementType":"labels","stylers":[{"lightness":15},{"hue":"#ff005d"},{"visibility":"simplified"},{"saturation":-100}]},{"featureType":"road.arterial","elementType":"labels","stylers":[{"visibility":"on"},{"saturation":-98},{"lightness":41},{"gamma":0.75}]},{"featureType":"road.highway","elementType":"labels","stylers":[{"visibility":"simplified"},{"lightness":20},{"saturation":-60}]},{"featureType":"transit.line","stylers":[{"visibility":"simplified"},{"saturation":-25},{"lightness":35}]},{"featureType":"transit.station","elementType":"labels","stylers":[{"lightness":10},{"saturation":-72}]},{"featureType":"poi","elementType":"geometry","stylers":[{"lightness":15},{"saturation":7}]},{"featureType":"poi.place_of_worship","elementType":"labels","stylers":[{"visibility":"off"}]},{"featureType":"poi.sports_complex","elementType":"labels","stylers":[{"visibility":"off"}]},{"featureType":"road","elementType":"labels","stylers":[{"visibility":"off"}]},{"featureType":"road.local","elementType":"labels","stylers":[{"visibility":"on"},{"saturation":-100},{"lightness":21}]},{"featureType":"road.arterial","elementType":"labels","stylers":[{"visibility":"on"},{"lightness":25}]},{"featureType":"transit.line","stylers":[{"visibility":"off"}]},{"featureType":"poi","elementType":"labels","stylers":[{"saturation":-100},{"lightness":35}]},{}]